Musings from the sports desk: An ode to a record-setting senior class
Fri, 11/02/2018 - 17:07
admin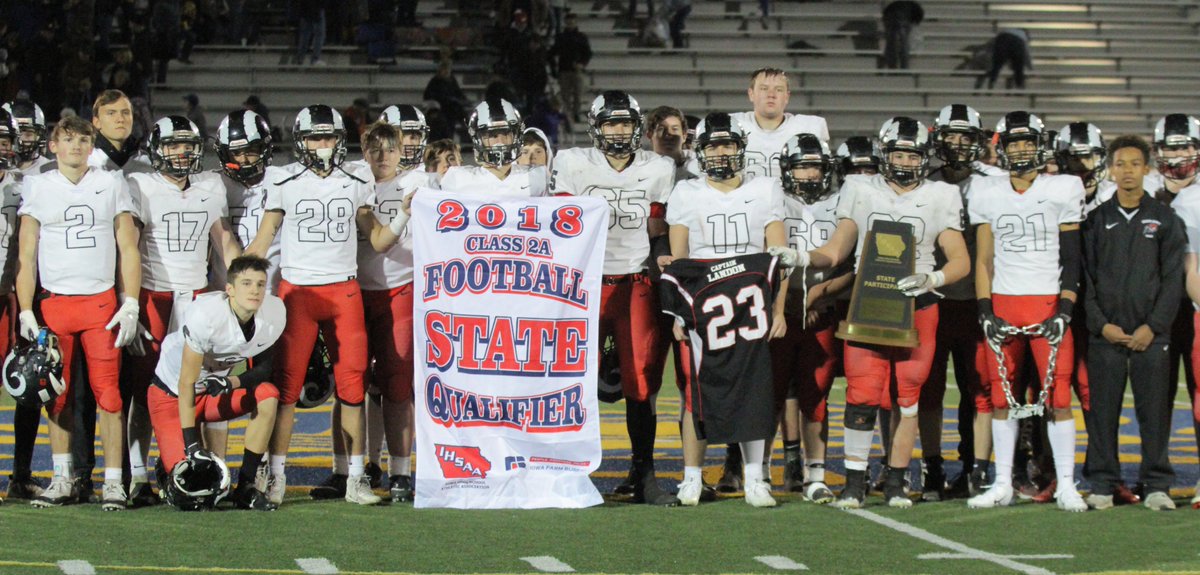 The 2019 senior class left their mark on a rising Greene County program 
By BRANDON HURLEY
Sports Editor 
---
This group of Greene County seniors will be remembered for years to come. They'll be the ones – along with a strong core of underclassmen, naturally – credited with kick-starting the turnaround, one that's on par with perhaps greatest 12-month reversal in the county's sporting history. 
As head coach Mitch Moore put it perfectly, the 10 seniors hailing from Greene County and Paton-Churdan laid the foundation for future success, while taking the consolidated school to new heights. 
Despite their elimination from the Class 2A playoffs last week to a team that's likely headed to the UNI Dome (Benton Community), the 2019 class set a bar of excellence the Rams were desperately in search of over the last few years. 
The 10 seniors on the 2018 Greene County football team had won somewhere in the neighborhood of three games in their entire football careers, dating back to third grade prior to this year's historical run. 
Following an eight win stretch complete with several school records, a share of a district title and a spot in the state playoffs, they'll be remembered for success. Plain and simple as that. They took a team that was 1-8 a year ago to 8-2 and firmly in the playoffs, complete with a top 10 ranking to boot. That's how you grow as a team. 
From first-year running back Clint Dennhardt and his 19 total touchdowns, to Bryce Hoyle and Brock Wuebker's awe-inspiring two-way line play spearheading one of the state's most stingiest defenses, to Clay Smith and Austin Delp quarterbacking the linebacking core and Trey Hinote and Lance Hughes bolstering a wide receiver unit and a stout secondary, these guys were the real deal, and blossomed as the program grew. 
No play better represented these Rams then when Delp put together a tremendous athletic play in their playoff loss. Also the team punter, Delp was left scrambling as a snap was sent sailing over his head. Instead of panicking, he quickly raced to recover the ball, gathered himself and still managed to boot the ball roughly 40 yards downfield. That short span of resiliency epitomized the last few years. 
"Every one of (these seniors) has made major contributions to this program and helped lay the foundation," Moore said in an interview discussing the 2019 class. "There's nobody in particular that rises above the rest. They've been so good collectively as a group. I'm so proud of them."
What brought this group together was their willingness to grow together. They became best friends, starting a group chat and spending time at each other's houses away from the field. They became a family. 
"Bryce Hoyle and Clay Smith and their leadership. Trey Hinote in how he's developed into a great young man," Moore said. "Clint Dennhardt, the growth he's shown. Lance Hughes is off-the-charts talent-wise and we are really proud of he areas he's grown in. 
David Richter has found himself a role on this team and never gave up on the process. Joe Anderson has put his head down and kept his mouth shut and did everything he could to be a great teammate.
Moore continued, "Eric Thompson found a niche as a scout team player. 
Austin Delp, who I believe is an unsung hero for this football team and everything he provides. His ability to stop the pass and run and ability to make up for deficiencies that we have on the defensive side of the ball. 
The records fell at an alarming rate this season, as the Rams broke the single game record for most points – 68 against Saydel – set the record for fewest yards and rushing yards allowed against Shenandoah and most likely broke the school record for tackles for loss (86) while they also set the Greene County record for wins in a season (8). 
Dennhardt's first quarter touchdown last week broke a tie with Daric Whipple for most rushing touchdowns in a season in Greene County history, giving him 15 scores in 10 games, which tied him for ninth in 2A. Whipple, now a walk-on at Iowa State, ran for 14 touchdowns in 2015, setting the old school record. 
Marty Ball ran for 1,516 yards but only 13 touchdowns in 2007, which was the most recent high-water mark for a Jefferson-based football team. 
There was a role for each senior these last two years, and despite a devastating loss last week to Benton Community, it was a season to hang their hats on. 
"I know every single senior on this team has provided an unbelievable model of consistency for what I want this program to be," Moore said. "I've asked a lot of them. Probably more out of these 10 men than any team I've been apart of. 
Moore continued, "The neat part about this team, a year ago, we had the same work ethic. They came back after a 1-8 season, where a lot of young men would've folded," the coach said. "They could've said 'this head coach is crazy.' I'm really thankful for the kids and the people around them that have helped them believe." 
Though the Rams lose a strong senior class, the cupboards certainly aren't bare next year. The Rams return quite a bit. Most of this year's offense is back, including record-setting junior quarterback Brent Riley (he threw for more than 2,200 yards and 22 touchdowns), running back Colby Kafer, wide receivers Carter Morton and Will Hansen, tight end Tyler Teeples, and three-star offensive lineman Tyler Miller. 
Miller will anchor a fairly fresh defensive line, as he'll be the only returning starter while the Rams will also need to find several new linebackers, as Nick Breon is the only guy coming back. Will Hansen, Carter Morton and Xavier Hayes will bolster a relatively strong secondary while Cael Fisher and his pin-point accuracy will be back handling kicking duties. 
Morton was named an all-district 9 elite receiver – his 800 receiving yards tied him for eighth in 2A – and played a pivotal role in he secondary. 
Kafer became a receiving threat out of the backfield as the season wore on, caching nine balls for 173 yards and two touchdowns while also starring as the second half of a dynamic running duo, breaking a slew of tackles each time he touched the ball for 776 yards and eight touchdowns. Hansen came on late at the receiver spot as well, scoring the lone receiving touchdown in the loss to Benton.
Once again, the 2019 district 9 slate looks favorable, as Kuemper loses a strong core of seniors while OA-BCIG graduates the state's top QB (Kaden Ladwig) and one of the best receivers (Cooper Dejean) as well. 
Atlantic's dual-threat quarterback (Chase Mullinex) will be gone as well, so Greene County, theoretically, should sit right near the top of the district standings and threaten a playoff spot yet again. 
**EDITOR'S NOTE** 
The most comparable turnaround I can find was the Jim Cox-led Paton Churdan Rockets in the mid-80s. When he took over that football program, they had won four games in four years – three years later, they were back-to-back state champions.